Mould Polishing Services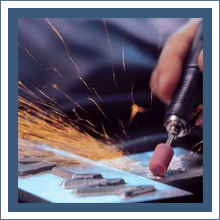 Mould Polishing Services
Service Code : 0362
Brand Name : SHARDA ETCHING
Located at prime location of Delhi, India, we have been known as a prominent entity, engaged in rendering Mold Polishing services. Widely demanded in fabrication industry, these services are known for their on time accomplishment and hassle free management. We have a crew of well-trained professionals who have in depth knowledge of the domain, to execute these services using modish techniques and tools to impart superior finish to molds. Additionally, we offer these Mold Polishing services to our patrons at cost-effective rates.
Key points:
Attempt best to provide utmost satisfaction to the clients
Utilization of advanced polishing equipment
Enhance re-usability and flawlessness of molds

We are offering our services in Punjab, Rajasthan, Himachal Pradesh, Haryana, Uttarakhand, Uttar Pradesh, Madhya Pradesh, Delhi NCR, Jammu And Kashmir, etc.


Head Office: 547/37, Onkar Nagar-C, Tri Nagar, Delhi - 110035, India
Workshop:

HI-28, Pocket-H, Sector. 3, Bawana Industrial Area, New Delhi-110039